All of us have heard the American Express name before, even if we don't carry one of their card products. But did you know that the credit card giant also has an online bank? Well it does, and they offer a variety of excellent account options, no matter your savings goals.
Whether you're looking for a place to tuck your money away safely for the next few years, or just want to maximize your returns while keeping your emergency fund within reach, American Express Federal Savings Bank (FSB) has what you need. Not only are their online savings options flexible and full of useful features, but you'll also earn a return that is leaps and bounds above the national average.
This free bank is a bit limited in what they have to offer, though this might actually be ideal for some. For instance, American Express FSB is absolutely an online bank, lacking local banking branches and dedicated ATMs. And while they offer high yield savings accounts and CDs for all of your savings needs, you'll need to source out your checking account elsewhere. If you are the type of person who needs to keep your savings slightly out of reach to avoid temptation, though, this might be the perfect choice for you.
Let's take a look at the options and products that you'll find offered from American Express, along with the features that make this bank so enticing.
Who Is American Express Federal Savings Bank?
American Express was founded in 1850 in Buffalo, New York, and is known around the world by its centurion logo (which was introduced in 1858). The financial giant is also one of the 30 companies that comprises the Dow Jones Industrial Average, the stock market index used to gauge the activity of a standard trading session.
American Express — often simply referred to as Amex — is known best for its charge and credit cards as well as (declining in popularity) travelers' cheques. However, American Express FSB also offers a number of savings products for customers looking to place their nest eggs in a secure, high-return account.
Personal banking accounts offered include high-yield savings and certificates of deposit (CDs). All American Express Federal Savings Bank accounts are FDIC-insured, meaning that your deposits are protected up to the federal maximum.
While American Express FSB doesn't have any local branches to visit, they make accessing and managing your funds easy and convenient, no matter where in the world you are.
Savings Accounts
Everyone should have at least one high yield savings account. It's the perfect place to tuck your emergency fund, family vacation savings, or even the funds you're stashing away for a home or car down payment. No matter why you're saving, it's important that you do save… and that you maximize your returns in the process.
Keeping your money in a checking account or any old savings account might be easy, but it's probably not the smartest idea. Holding funds in your checking account could make it easy for you to inadvertently overspend, sabotaging your savings goals. Keeping that money in the wrong savings account could cause you to lose out on valuable returns, in the form of a too-low interest rate.
This is where American Express FSB really shines.
Interest Earned
National savings rates are incredibly low these days. In fact, the average is about 0.06% APY, which doesn't do a whole lot for you in terms of returns. This is why switching your money over to a savings account from American Express FSB is a smart idea: there, you'll earn an impressive (and safe) 0.40% APY on your funds (as of this writing, October 19, 2021).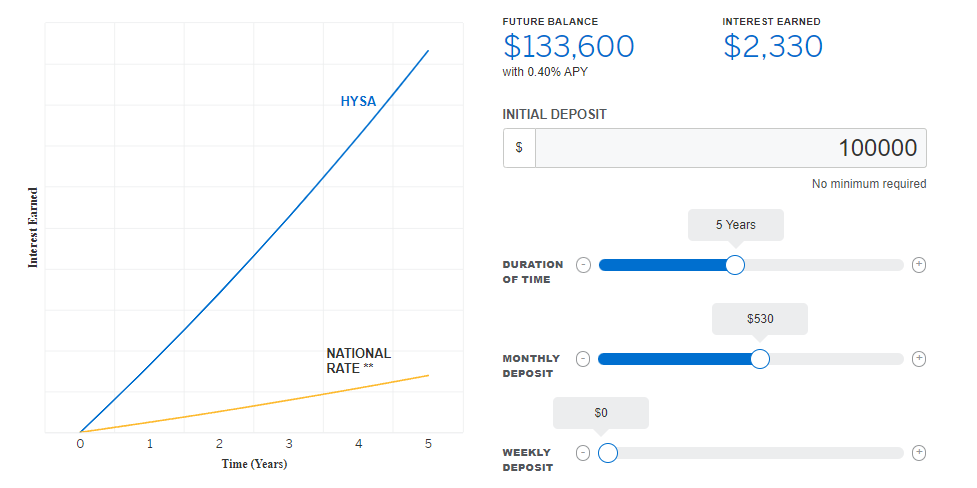 Thanks to compound interest, your money will continue to grow exponentially. The more you earn in interest, the more your funds can multiple over time and you'll continue earning interest on your interest. Over time, the right interest rate can result in a significant bump in your savings, whether you keep adding to the principal balance or not.
If you're curious just how much you will earn over time — or even want to see how you can reach a specific savings goal — American Express has a helpful savings calculator tool on their website. Simply enter your initial deposit and how much you expect to save each week or month. It will then utilize the current interest rate to tell you just how your savings will multiply.
Of course, there are times when a savings account isn't ideal for your funds. If you plan to hold onto that money for an extended period of time and don't need to have it within reach (ie: it's not an emergency fund), you can actually earn more interest by choosing a certificate of deposit instead. But if you need that money to be accessible or plan to use it in the next 12 months or so, a high yield savings account from American Express FSB is a great way to maximize your returns.
Fees
There are no fees involved with opening a high yield savings account through American Express. Some banks will charge fees either upon account opening or as a monthly maintenance fee, but you will find neither at American Express FSB.
There are also no minimum deposit requirements with this bank, and no minimum balance that you are required to have at any given time. You are free to open an account with any amount of savings you'd like, and to keep as little, or as much (up to the current maximum of $5M), in the account as you want. No matter how much you deposit or where your balance stands, you won't have to worry about savings account fees.
Lastly, you also don't have to worry about paying any fees when you make standard deposits or withdrawals with your high yield savings account. You are still required to stay below the federal withdrawal limits of six transactions per statement period, but this isn't a bank rule — it's required by law.
Withdrawals and Deposits
No matter where you are in the world, you can easily add funds to your American Express high yield savings account, or withdraw them as needed. Deposits and withdrawals are both free and easy to do automatically or online as needed.
To deposit funds into your savings account, you can:
Set up a direct deposit from your employer, Social Security, the IRS, etc.

Initial a one-time transfer from a connected bank account

Set up recurring transfers from an external bank account

Mail in a check for deposit
If you need to access your funds from savings, you also have options for withdrawals. You can:
Initiate a one-time transfer to an external bank account (wire or ACH)

Request an official check from the bank
All savings accounts in the U.S. are bound by the limits imposed by the FDIC, within Regulation D. According to this regulation, an account classified as a savings account is only allowed to have up to 6 withdrawals from the account in a statement cycle. If you exceed this limit, you could be fined, have your account closed, or both. (Official checks requested from the bank do not count toward your monthly withdrawal limit.)
No checks or ATM debit cards are offered with American Express FSB savings accounts.
How to Open a Savings Account
High yield savings accounts are easy to open through American Express. You can complete the process online or over the phone with a representative, and the process only takes a few minutes to complete.
Before you start your application online or pick up the phone to call customer service, there are some important things you will want to gather. For your application, you will need:
Your home address and phone number

Your SSN or other taxpayer ID number

Your date of birth

Your email address

Account and routing numbers for the bank account you'd like to use to fund your new savings account (unless you plan to mail in a check)
As mentioned previously, there is no minimum deposit requirement to open a new high yield savings account with American Express FSB.
Certificates of Deposit (CDs)
There are a lot of great reasons to put your money in a high yield savings account. It's convenient to have your cash available at a moment's notice, especially if your savings account holds your emergency funds. However, if you are planning to put that money aside for a longer period of time and know that you don't need to use it right away, there is something even better: a certificate of deposit.
Certificates of deposit, or CDs, are a great way to earn enviable savings rates on your funds. They are often much more lucrative than savings accounts, as long as you can commit to tucking your money away for a more extended period of time.
Interest Earned
With CDs, you're rewarded the longer you agree to lock your money away. Lengthier CD terms often come with significantly higher APYs, and you often can't find a much better rate for your savings than a long-term CD.
Of course, if you plan to put your money away for 3, 6, or even 9 months, you'll usually get a better rate from your high yield savings. Beginning around the 12-month CD mark, though, the interest rates jump considerably and typically surpass those offered by savings accounts.

Curious just how much your money could earn in a CD, according to how long you can afford to lock it away? American Express FSB offers a handy online tool to calculate just that. Simply enter your deposit amount and choose your CD term, and you'll see just how much interest you will get.
Of course, rates change all the time. As of this writing (October 18, 2021), though, CD interest rates offered by American Express range from 0.10% to 0.55% APY. A nice alternative for safe investing with FDIC insured coverage.
Before opening a CD at any bank, you need to be absolutely sure that it's the right financial product for your money. If there is any chance you will need to access those funds prior to the maturation of the certificate, you might want to look at either a shorter term or opting for a saving account. Withdrawing your funds early from a CD comes with hefty penalties.
Early Withdrawal Penalties
CDs from American Express FSB are free to open and don't incur any monthly maintenance fees. If you need to pull your funds out of the certificate prior to its maturation date, though, you'll be subject to early withdrawal fees… and they are nothing to scoff at.
Penalties for early CD withdrawal are based on the original term length of the certificate. At American Express FSB, they are calculated as follows:
If your CD term was less than 12 months, your penalty is 90 days' simple interest.

If your CD term was at least 12 months but less than 48 months, your penalty is 270 days' simple interest.

If your CD term was at least 48 months but less than 60 months, your penalty is 365 days' simple interest.

If your CD term was 60 months or more, your penalty is 540 days' simple interest.
Depending on how much you had in the account, when you withdraw funds, and how much interest you had already earned, these penalties can be painful. In fact, they could not only eat away at your earned interest… they could actually dip into your original principal!
How to Open an American Express Federal Savings Bank CD
If an American Express FSB certificate of deposit sounds good to you, then it's easy to get started. You can open an account online or over the phone, and the process only take a few short minutes.
Before you start your application or pick up the phone, though, there are a few things you'll want to gather. These include:
Your home address and phone number

Your email address

Your date of birth

Your SSN or other taxpayer ID number

The routing and account number of the bank account you with to fund your CD with (unless you plan to mail in a check)
There is no minimum deposit required for CDs from American Express FSB.
Checking Accounts and Money Market Accounts (MMAs)
There is a level of convenience involved with having your savings and everyday financial products, such as your checking account, at the same bank. However, there is also a lot of value to keeping them separate (mainly for temptation's sake). If you're thinking about keeping your savings with American Express, though, you actually don't have much of a choice: they don't currently offer checking accounts.
You also won't find money market accounts (MMAs) offered through American Express. There are very few differences between MMAs and high yield savings accounts, though, so you may still get exactly what you need with Amex's savings product. Interest rates are usually comparable, if not identical, so the lack of MMAs isn't likely to have a significant impact on your return.
American Express Federal Savings Bank Mobile App
American Express does offer a mobile app for their credit card and charge card customers. However, this app will not access your savings account or CD products.
Is American Express FSB Right for You?
Before today, you may not have known that American Express offered more than charge and credit cards, or traveler's cheques for your worldwide adventures. As you can see now, though, the financial giant also provides customers with a number of excellent, and highly-competitive, savings options for when they want to maximize returns.
If you're looking for a place to put your savings — whether you need them to be readily accessible or want to tuck them away safely for a few years — American Express Federal Savings Bank may be exactly what you need.
Their offered interest rates are near the top of the market and well above the national average. Account access is made easy with a reliable online platform, and you'll never have to worry about paying a fee or holding an account minimum. Plus, your account(s) will be backed by a trusted name like American Express, which has been around and holding strong since 1850.
The bank doesn't offer checking account options or in-person banking branches. However, their easy-to-navigate online platform and 24/7 phone-based customer service make opening accounts and managing your funds convenient and care-free.
To learn more about American Express Federal Savings Bank or open one of their many free, high-yield accounts, visit their site here.