If you want the highest interest rates on your savings, you typically have to opt for an online bank. However, this usually comes with a few sacrifices, such as giving up access to local bank branches and even limiting the financial products to which you'll have access.
Every once in a while, though, you run across a bank that offers high-yield accounts, local branches, and a wide variety of account types. Such is the case with CIBC.
Whether you're looking for a personal checking account, any number of savings accounts, a personal loan, or even small business accounts, CIBC likely has a product to meet your needs. Today, though, let's talk about their personal banking options, and whether this bank is the right place for you to put your money.
Who Is CIBC?
In 1961, the Canadian Imperial Bank of Commerce, or CIBC, was founded in Toronto. It came about as a result of a merger between two Canadian banks.
The larger of the two, the Canadian Bank of Commerce, provides the backing for CIBC as it's known today. With it, they bring along an impressive 151 years of banking experience and strength.
CIBC began its foray into American banking in 1991. That's when The PrivateBank opened its first office in Chicago (where CIBC still maintains its US headquarters). The PrivateBank was acquired by Canadian-owned CIBC in 2014, becoming their subsidiary and solidifying CIBC's presence in the United States.
They offer banking solutions to the everyday banking customer, as well as to those who have cross-border financial needs. In fact, CIBC offers three different savings accounts to choose from, depending on the funds you need to set aside and your own personal banking needs. These include their standard personal savings account, the agility savings account, and a money market account (MMA) option.
All three will earn you interest on your balance. You can also easily avoid paying fees on your account as long as you choose the one that best fits your banking habits and the balance you plan to carry. Another big difference between them lies in how much you will earn and the fees you'll potentially pay to hold the account.
If you're looking for a CD or personal checking account, CIBC has a few different options there, too.
Personal Savings Account
If you are looking for a savings account with a low minimum deposit requirement, but where you'll still earn a great interest rate, the CIBC Savings might be right for you. This account will also boost your interest rate the higher your balance climbs, rewarding you for saving more.

You will only need a $50 deposit to open a new account. And unlike some banks, CIBC doesn't require you to also open a checking account in order to take advantage of all that the savings accounts have to offer.
Interest Earned
The amount that you'll earn in interest with the CIBC Savings account is contingent on your balance.
Rates are subject to change, and the actual rate you will earn on your personal savings account will be set when you call or go in to open your new account. However, there are four rate tiers that you may qualify for.
Tier 1: balance between $0.01 and $9,999.99
Tier 2: balance between $10,000 and $24,999.99
Tier 3: balance between $25,000 and $49,999.99
Tier 4: balance at or above $50,000
Fees
There is no fee to open a CIBC Savings account. All you need to do is ensure that your initial deposit meets or exceeds the $50 minimum requirement. You can also avoid paying any monthly maintenance fees with the CIBC Savings account. You just need to keep an eye on your balance throughout the month.
As long as your savings balance remains above $250, you won't pay any monthly fees in order to maintain your account. However, if your balance held drops below $250 at any point over the course of the month, you will pay a $3 monthly fee for that statement cycle.
This fee is waived for account holders under the age of 18. The minimum deposit requirement is also waived for minors.
No matter which bank you use for your savings account, there is one standard rule in place: you cannot make more than six withdrawals in a statement cycle without repercussions of some kind. Some banks will fine you, others will close your account. At CIBC, if you make more than six debit card transactions or pre-authorized, telephone, or automatic transfers, you'll be fined $10 per transaction beginning with the seventh.
However, there is no limit to the number of in-person or ATM withdrawals you can initiate. So if you want to avoid that $10 per transaction fee beyond your 6th, just head to an ATM or a local branch to pull out funds.
Withdrawals and Deposits
CIBC makes it easy to access and manage your account, no matter where you are or when you need to move money around.
The mobile platform provides a variety of features, such as the ability to initiate transfers, open new accounts, or even scan and deposit checks online, 24 hours a day. If you want added accessibility, there is a CIBC USA app for your smartphone. This also allows you to manage all of your CIBC accounts and deposit checks on the go.
There are a limited number of branch locations across the US, as well, if you want to do your banking in person. These branches are located in Illinois, Michigan, Missouri, and Wisconsin. To find local in-network ATMs, you will need to live in Illinois, Missouri, or Wisconsin.
Agility Savings Account
If you have at least $1,000 to set aside and want to earn the highest interest rate possible on your savings, the Agility Savings account is perfect for you. There are no maintenance fees on this high-yield savings account, and it earns maximum interest on your funds.
Interest Earned
You won't find many banks offering a higher interest rate on savings, compared to CIBC's Agility Savings account. In fact, it puts most US-based banks to shame with the returns it offers.
Currently, the Agility Savings account offers a solid 0.52% APY on savings. Considering that the US national average for all savings accounts is 0.06% or lower, according to the FDIC, it's easy to see why you should shop around for the most competitive option. And in this case, the leader seems to be CIBC.
Posted rate current as of this writing (October 21, 2021). Interest rates subject to change at any time.
Want to see how much money you could earn on your savings? Check out the CIBC website and utilize their handy savings calculator. Based on the current interest rate, you can easily see your return over whichever time period you choose.

In order to earn the stated APY, you'll only need to keep $0.01 in your account.
Fees
There are no monthly maintenance fees for the CIBC Agility Savings account. As long as you deposit a minimum of $1,000 (which is required to open the account anyway), you will never need to worry about recurring fees.
Withdrawals and Deposits
Whether you need to access your cash or simply add more to your savings account, CIBC makes it easy.
When you need to deposit funds into your Agility Savings account, you can do so in a number of ways. You can set up a direct deposit from your employer or other payee, to automatically add to your balance each month. You can also initial transfers from other CIBC or external bank accounts that you own, by simply connecting them online on the CIBC banking platform.
You can also mail checks to CIBC directly, to have them deposited into your account. Checks are subject to a 10 business day hold before funds are available, so be sure to keep that in mind if you go this route.
Withdrawals are limited to six preauthorized, automatic, or telephone transfers each month. If you make withdrawals in person at a CIBC branch or at an ATM, these transactions won't count toward your monthly limit. You can also initiate electronic transfers from your Agility Savings account to other CIBC accounts, or even external bank accounts that you own, by connecting them online. Lastly, you can also request a check from CIBC, which will be mailed to you.
How to Open a Savings Account
Whether you want to open a Personal Savings or Agility Savings account, CIBC makes it easy.
Agility Savings accounts can only be opened online. You cannot visit a local branch if you want to take advantage of one of these high-yield accounts.
Basic Personal Savings accounts can be opened at a local CIBC branch, if you're near one.
In order to open one of these savings accounts, you will need:
Your SSN (as well as your joint applicant's, if applicable)

Your driver's license or state-issued ID number

Your address

Your employment info
Be sure to have this information on-hand when you are ready to begin opening your new savings account!
Your initial deposit will need to be made once the account has been opened. These funds can be added by:
Transferring from an existing CIBC account

Transferring from an external bank account

Mailing in a check (your funds are subject to 10-business day hold)
Just remember that in order to open a basic Personal Savings account, you'll need an initial deposit of $50. For the higher-yield, Agility Savings account, the minimum opening deposit is $1,000.
Money Market Accounts (MMAs)
If you want a bit more flexibility with your savings, as well as the option to earn a very competitive interest rate, look no further than a money market account, or MMA.
An MMA is very similar to a checking account in many ways. They are both subject to the same federal withdrawal limits and both earn market-topping interest rates. The difference, though, is that an MMA offers you additional access to your funds in the form of checks.
Interest Earned
There are multiple interest rate tiers offered by CIBC for their MMA accounts. These tiers are as follows:
Tier 1: balances of $0.01 to $2,499.99

Tier 2: balances of $2,500 to $49,999.99

Tier 3: balances of $50,000 to $99,999.99

Tier 4: balances over $100,000
The higher the tier, the higher the interest rate offered. Therefore, the more money you save in your MMA, the more interest you have the potential to earn.
Fees
As long as you hold a specific balance in your MMA, you won't need to worry about any monthly maintenance fees. For CIBC's MMA, this threshold is $2,500.
If your daily account balance falls below $2,500 in a statement cycle, you'll be subject to a $15 maintenance fee for that month. However, if you hold a balance of $2,500 or greater, you won't be charged any fees.
If you go over the allotted six monthly withdrawals, you'll be charged $10 per withdrawal beginning with the seventh. This includes check or debit card transactions, as well as transfers made by telephone, those that are pre-authorized, or automatic transfers that are set up ahead of time. However, withdrawals made in person or at ATMs do not count in this number.
Not only are you subject to this fee for exceeding the six allotted withdrawals, you may also have your money market account automatically converted to a checking account for doing so.
Checking Accounts
Many banking customers find it very convenient to hold both their checking and savings accounts at the same bank. If you're one of those people, you'll be glad to know that CIBC does offer a personal checking account option to meet your needs. Actually, they offer four.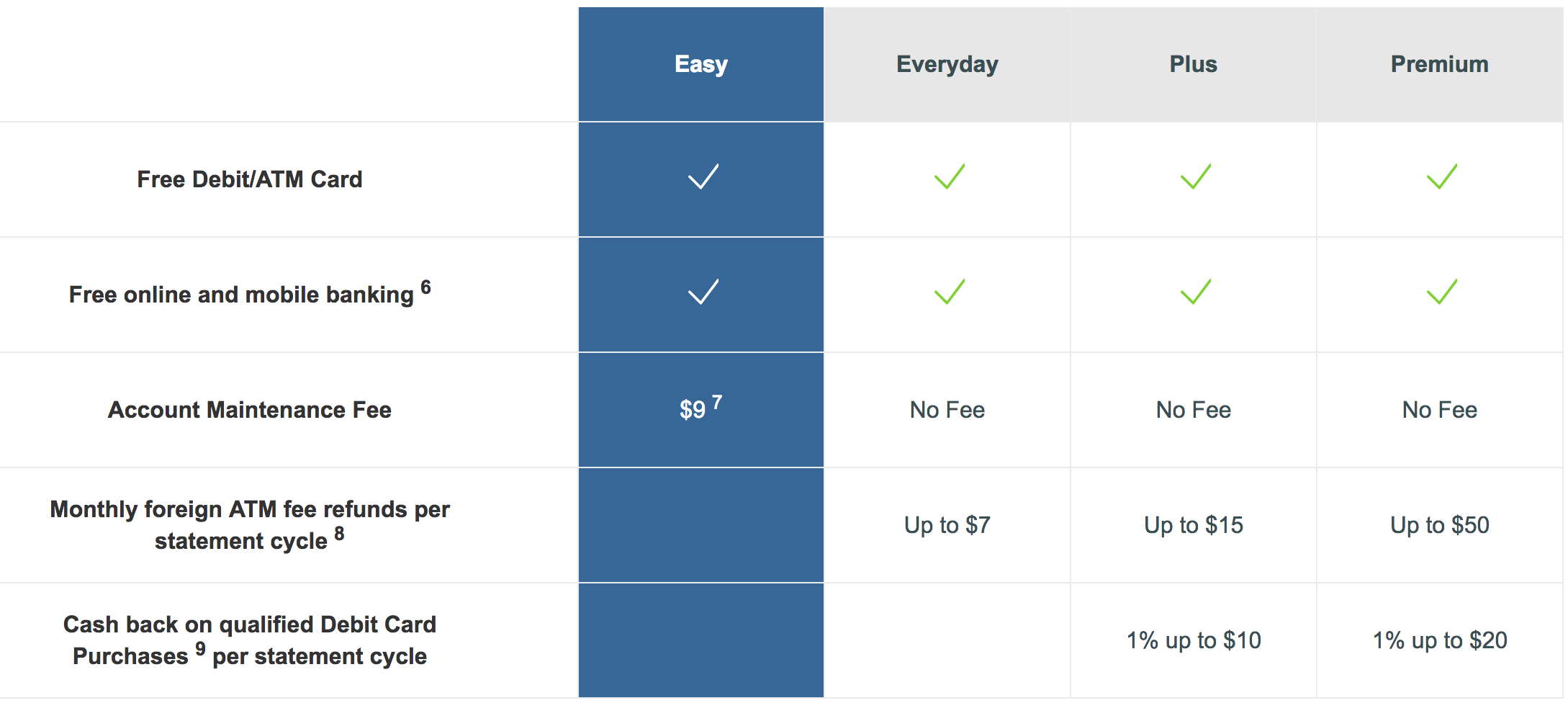 As you can see, all four checking account options offer free ATM debit cards as well as free online and mobile banking access. The difference lies in the monthly fees and the rewards offered.
Interest Earned
At CIBC, all personal checking accounts are non-interest earning. This isn't entirely uncommon, though there are a number of banks that will offer you a (usually very low) interest rate on your monthly checking account balance.
Fees
If you choose the Easy checking account, you'll pay a $9 monthly fee. This fee is reduced to $6 if you opt for electronic statements. You won't receive any rewards, but you also don't have to worry about holding a minimum balance or meeting minimum monthly transaction requirements.
If you utilize more services and banking options, you can (and should) take advantage of one of the higher account levels. These include the Everyday, Plus, and Premium accounts.
The first does not charge a monthly fee but also won't earn you any rewards. It does, however, offer a monthly ATM reimbursement. The latter two offer account rewards, a waived monthly fee, and higher ATM fee reimbursements.
Opening a Checking Account
If you're interested in opening a CIBC personal checking account, you can do so in two ways. You can either visit a local branch (if there's one near you) and open a new account in person, or you can call CIBC at 877-448-6500.
Certificates of Deposit (CDs)
It's always good to have some savings with liquidity, such as your emergency fund, for those unplanned and immediate expenses. Any savings beyond that, though — such as your cash for a family vacation or the down payment on your next car — can be tucked away a bit longer.
By utilizing a high-yield certificate of deposit (CD), you can maximize your return in the process, often earning quite a bit more than offered by high-yield savings accounts. All you need to do is guarantee that you won't touch the money for a specified period of time.
Interest Earned
There are two CD options offered by CIBC: the 15-month CD and the Jumbo CD. Both offer competitive returns, depending on how much you want to save and for how long.
The 15-month CD is currently offering a return of 0.50% APY. This is significantly more than you would get from even the Agility Savings account mentioned above. As long as you are able to lock that money away for a year and some change, you can really maximize your earnings.
If you have quite a bit more money to save, you can look into the CIBC Jumbo CD. This certificate of deposit is available to savers with $100,000 or more to set aside, and in term lengths ranging from 30 mondays to five years. As is the case with most CDs, the longer you lock your money away, the higher the rate of return you'll be offered.
Fees
There are no fees to open or maintain a certificate of deposit through CIBC. However, if you need to withdraw your funds before your CD reaches maturity, you will be subject to early withdrawal fees. And these are often pretty significant.
The penalties charged for early withdrawal depend both on the type of CD chosen as well as the original term length. Be sure to ask your banking representative for details when you call or go in to open your CD, to find out exactly what your penalty would be.
How to Open a Marcus CD
As with almost all CIBC products, you can open a CD by contacting the bank directly. You can do this by visiting a local branch, if one exists near you, or by calling them directly. Unlike many other banks, you cannot open a CD online.
Mobile App
There is a mobile app offered by CIBC, which may be exactly what you need to manage your checking, savings, or CD accounts.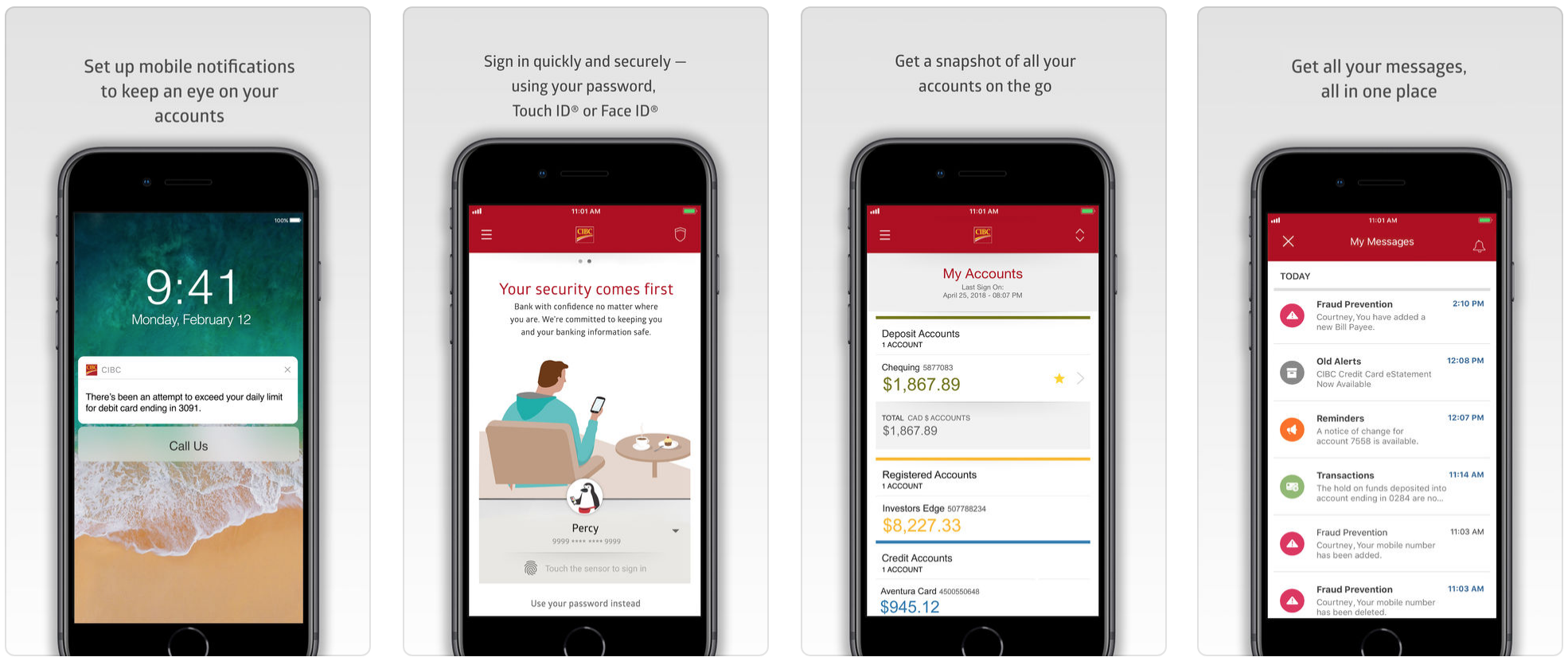 The mobile app is offered for both Google Play and in the App Store. It offers you the ability to not only view and manage accounts, but also initiate transfers, deposit checks via mobile, and send requests to customer service.
Is CIBC Right for You?
If you're looking for a bank that offers savings interest rates that easily dwarf everyone else, as well as the convenience of holding all of your different accounts at one bank, CIBC might be the place for you. Whether you need a checking account, personal savings account, MMA, CD, or even a mortgage or small business account, this Canadian bank can help.
They are a bit limiting, in that local branches are only found in four states, with network ATMs in only three. Also, many of their accounts can only be opened in person or over the phone, which isn't quite as easy as jumping online to begin the process.
There are also quite a few stipulations and minimum balance requirements, if you want to avoid fees on both checking and savings accounts. However, when you consider the rates offered, this might be easily forgivable.
Lastly, if you have a need for cross-border banking between the United States and Canada, CIBC has you covered. With branches and bases in both countries, they can handle whatever international needs you may have.