If you're anything like me, you grew up hearing the name Goldman Sachs. Of course, the bank was also synonymous with wealth and high account balances, so we weren't exactly opening our first savings accounts there.
Then, just a couple years ago, times changed. Goldman Sachs decided to open their doors to the everyday savings customer with the introduction of their online branch, GS Bank. Offering high-yield savings accounts, CDs, and no-fee personal loans, GS Bank made banking with Goldman Sachs not only accessible to the "little guy"… they made it lucrative!
GS Bank has since been rebranded to Marcus by Goldman Sachs, but they are still offering the same enviable rates and products as the day the bank was rolled out. If you're looking for somewhere to park your savings and earn competitive rates, or take out an affordable personal loan, Marcus might just be the place for you.
Let's take a look at everything Marcus by Goldman Sachs has to offer, and whether this is the online bank for you.
Who Is Marcus?

As mentioned, Marcus is a subsidiary bank of Goldman Sachs. It was introduced in 2016 as GS Bank, after Goldman Sachs acquired the existing, online-based GE Capital Bank. Just a few short months ago, the bank was rebranded and renamed, now known as Marcus.
Marcus is an online-only bank, offering a handful of savings and personal loan products. While their account offerings are a bit more limited than other banks, theymake up for it in both reliability and extremely competitive rates. In fact, their high-yield savings accounts are consistently at, or very near, the top of the market with it comes to APY.
Savings Accounts
One of the most popular products offered by Marcus is their high-yield savings account. This online-only product offers interest rates that are sure to earn you top dollar on your funds, whether you're saving for an emergency, the down payment on a home, or even a family vacation.

Savings accounts are easy to open and free, and you can even maintain multiple accounts to save for various goals. For instance, if you're saving for a new car, next year's Disney vacation, and have an emergency fund, you can earn market-topping interest on them all.
Interest Earned
While rates change often, the savings APY offered at Marcus is consistently higher than other accounts and is one of our top picks for parking your cash.
This means that your money will earn you even more money, rather than simply sitting parked in your checking account. Want to know just how much more you can earn by saving your money at Marcus? They have a handy Savings Calculator that will help.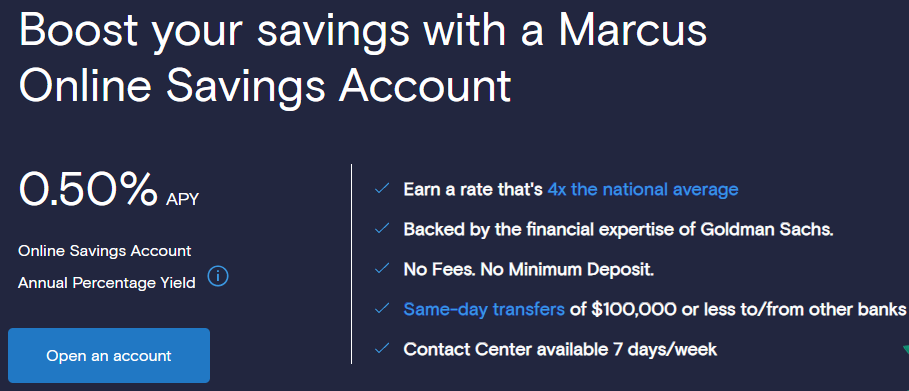 As long as you have at least $1 in your account, you will earn the stated interest rate. The APY offered by Marcus is currently 0.50% (at the time of this writing, October 10, 2021). Considering that the national average for all savings accounts is a mere 0.04% APY right now (or less), according to the FDIC, it's easy to see how a high-yield savings account is your best bet.
Of course, whether you choose a high-yield savings account or put your money in another type of account — such as a certificate of deposit (CD) or money market account (MMA) — depends largely on how much money you're saving. In some instances, you might want to look beyond a high-yield account to really maximize your earnings. For most everyday savers, though, the savings accounts offered by Marcus can meet all of your needs.
Fees
Marcus offers savings accounts that are more than just high earners… they're also free. There are absolutely no fees to open a Marcus by Goldman Sachs high-yield savings account, and there are no monthly maintenance fees, either. It doesn't matter whether you have $0.50 or $5,000 in the account — you won't pay anything to keep it open.
There are no minimum balances that you're forced to carry, so you're free to use your savings account for any intended purpose you may have. As mentioned above, though, you will need to have at least $1 in the account in order to take advantage of the published APY for that month.
There are also no fees for your typical transactions: whether you need to deposit or withdraw cash, it's easy and free to do.
It's important to note that, as with all other savings accounts (per federal law), you are limited to no more than six withdrawals from the account in a single statement cycle. Go above this limit, and you could have your account closed or be charged fees. But again, this is not a Marcus rule… you'll find it everywhere.
Withdrawals and Deposits
No matter where you are, how much money you have in savings, or what you need to do with the cash, Marcus by Goldman Sachs makes it easy. You can access your savings from anywhere, 24/7.
When you need to deposit funds into your Marcus savings account, you can do so electronically or via check. Checks can be mailed in to the bank and will be processed into your savings account in a few business days.
If you want to make a deposit faster, you can also do so online through the Marcus by Goldman Sachs website. Once you've linked external accounts — such as your everyday checking account — you can make transfers in under a minute. They will typically post to your account in about 2-3 business days.
Withdrawals can be handled in the same way. You can easily log in to the Marcus website to make electronic withdrawals to your account of choice. If you need to initiate an outgoing wire transfer, this can also be done online in minutes, as long as you have the necessary account information.
There is not currently a mobile app for Marcus, which may be an inconvenience to some banking customers. If you need to deposit a check, for instance, there is not a mobile deposit option; instead, you'll either need to mail in your check or deposit the funds into a checking account and transfer it to your savings.
There are also no local bank branches for Marcus, so if you want the ability to make deposits or withdrawals in person — or simply walk into a branch to talk to a teller in person — you won't have that option with this bank.
How to Open a Savings Account
Opening a Marcus by Goldman Sachs savings account (or five of them) is quick and easy. You can do it online 24 hours a day, 7 days a week through their web platform.
Simply visit the Marcus website and choose the Open an Account option. You'll need a few things on-hand in order to complete the process, including:
Your name and address

Your birthday and SSN

Your email address

Your funding choice (if you're connecting an external account, be sure to have your routing and account numbers ready)
As mentioned above, there is no minimum deposit required for the Marcus savings accounts. So, you're welcome to deposit any amount you'd like into your brand new, high-yield account.
Checking Accounts and Money Market Accounts (MMAs)
As of this writing, there are no checking account or money market account (MMA) options offered through Marcus by Goldman Sachs.
While there is a lot of value in keeping your saving accounts separate from your everyday checking accounts, some banking customers may prefer to have everything in one place. If this is the case for you, you may want to look into another bank for your savings account needs.
Certificates of Deposit (CDs)
We don't always know when we will need to utilize our savings, especially with something like an emergency fund. However, if you're saving for a future goal — like the down payment on a new home or a future family vacation — you know that you'll be holding on to those funds for a bit longer. In that case, you have the option to earn even more interest on your money by putting it in a certificate of deposit (CD) instead of a high-yield savings account.
Marcus by Goldman Sachs offers CD options to meet any need, with rates that are just as industry-leading as those offered by their savings accounts. Depending on how long you're willing to lock your money away for, you can earn as much as double the interest on your money.

Currently, Marcus CDs offer rates ranging from 0.15% to 0.80% APY (current as of October 10, 2021), depending on the length of the CD (anywhere from 6-month to 6-year terms). A 6-month CD will only earn you a 0.15% interest rate; a 12-month CD, however, will net you 0.55% a year.
This means that if you are only planning to tuck your money away for less than a year, you'll actually make more by putting those same funds in a savings account. However, beginning with the 12-month CD and beyond, you can earn significantly more interest through one of these certificates of deposit.
It's important to remember that the reason you get a higher rate of return from a CD is that you are obligated to lock those funds away for the agreed period of time. As long as you do, you'll be rewarded with a greater return than your savings account would offer; pull your money out early, though, and you'll be penalized in the form of lost interest and early withdrawal fees. So, it's imperative that you are sure you won't need that money until the CD term ends.
Interest Earned
Certificates of deposit (CDs) are all the same in one very important way: the longer you lock your money away, the more interest you will earn. Of course, this is the case with CDs from Marcus, too.
While rates are subject to change all the time, here's an idea of the rates currently being offered through Marcus, according to the term length chosen. Please note that these rates only apply if you open your CD with a minimum deposit of $500:
6-month term earns 0.15% APY

9-month term earns 0.25% APY

12-month term earns 0.55% APY

18-month term earns 0.55% APY

2-year term earn 0.55% APY

3-year term earns 0.65% APY

4-year term earns 0.65% APY

5-year term earns 0.80% APY

6-year term earns 0.80% APY
Marcus by Goldman Sachs also offers a 10-day rate guaranteed. This means that if you choose a CD and then rates go up any time in the next 10 days, you will automatically earn the highest rate offered in that time frame. Rate guarantee only applies if you deposited $500 or more into the CD at the time of opening, however.
If you want to see just how much you can earn over the life of your Marcus CD — comparing various CD terms against one another as well as the national average — there's a handy tool online to help. Simply visit the Marcus website and utilize the CD Calculator tool to see more.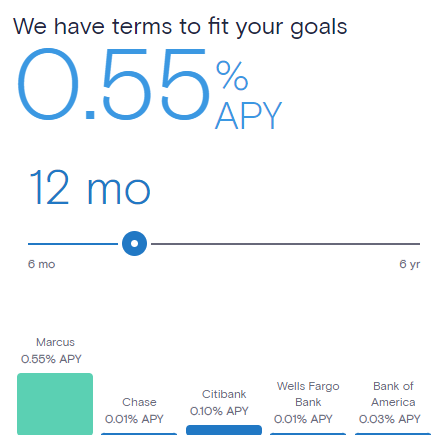 Early Withdrawal Penalties
There are no fees when you open a CD through Marcus. As mentioned, though, it's imperative that you are sure you can keep those funds locked away for the total term length. If you need to pull your money out early, you'll be subject to early withdrawal fees.
These fees can be substantial, depending on how much money you have in your CD, the original term length, and when you pull your funds out. Here's the penalty structure for Marcus CDs, if you do need to withdraw your funds ahead of schedule:
If your original term was for less than 12 months, your penalty is 90 days' worth of simple interest.

If your original term was 12 months to 5 years, your penalty is 270 days' worth of simple interest.

If your original term was more than 5 years, your penalty is 365 days' worth of simple interest.
Handing over an entire years' worth of interest would likely be a painful penalty,
How to Open a Marcus CD
Opening a CD through Marcus is quick and easy. You'll just need to visit the High-Yield CDs page online to get started.
To finish opening and funding your new CD, make sure you have the following ready:
Your name and address

Your birthdate and SSN

Your email address

Your funding source, such as the information for an external account
You can open multiple CDs at once through the Marcus website, too. So if you want to create a CD ladder or simply open CDs for various goals, you can do it all at once and lock in the current rates.
Mobile App
One of the biggest downsides to Marcus by Goldman Sachs — at least, in my opinion — is the lack of a mobile app. While this isn't nearly as impactful as it would be for, say, a checking account, it's still an inconvenience.
There are ways around this lack of app access, though. For instance, you can still log in to your account at any time through the web platform, whether from your desktop or your smartphone. There, you can instantly make transfers, check your balances, and even open new accounts.
If you need to deposit a check the lack of a mobile check deposit option can be limiting. With my personal Marcus savings account, I have to just utilize my checking account as a work-around. I deposit checks via my checking account's mobile deposit option, then instantly transfer those funds into my Marcus savings account.
It's an added step, sure, but it's only a few extra seconds in the grand scheme of things.
Is Marcus by Goldman Sachs Right for You?
There is something to be said for the convenience of having all your financial products in one place. A bank that can offer you checking accounts, high-yield savings, CDs, MMAs, and more can certainly streamline your life. Unfortunately, that sort of convenience usually comes at the expense of your interest earned.
This is where Marcus by Goldman Sachs comes into play. The bank has a limited range of banking products as the moment, only offering high-yield savings and high-yield certificates of deposit (CDs) to customers. There are no checking accounts, no MMAs, and no easy access through a mobile app or local branches. But in exchange, they do offer interest rates that consistently top the market.
Depending on what you need from your savings accounts, Marcus might be the perfect bank to hold your funds. It's easy enough to access your money when you need it, but not at your fingertips if you're the type of person subject to spending temptation. They offer some of the highest returns on savings accounts that you'll find today, ensuring that your money earns as much as possible.
It also doesn't hurt that accounts are free. There are no fees to open accounts, no monthly maintenance fees, and no fees for transferring funds in or out. You won't have access to an ATM for savings account withdrawals, but electronic transfers are quick and easy online. Plus, you have 24/7 account access through their web platform, as well as excellent customer service over the phone.
If you're considering an online bank for your savings, give Marcus by Goldman Sachs a look. The interest rates alone make it a worthwhile bank, and with a name like Goldman Sachs standing behind them, you know your money is in great hands.