Most of us know Discover as a household name, thanks to the bank's credit card products. But not everyone is familiar with their online banking products, ranging from checking and savings accounts to MMAs, CDs, and even IRAs.
Discover Bank offers competitive financial products to customers, complete with the solid backing of a bank that we all know and trust. And while Discover Bank is very much an "online bank" in terms of accessibility, their platform seeks to make managing your money as easy — and rewarding — as possible.
Here's a rundown of the checking, savings, money market, and certificate of deposit accounts offered by Discover Bank, and what they have to offer.
Who Is Discover Bank?
The institution known as Discover Bank was founded in 1911, based out of Greenwood, Delaware. It was formerly known as Greenwood Trust Company and was renamed Discover Bank in 2000, after having been acquired in 1985 by the financial giant.
The FDIC-insured bank is a subsidiary of Discover Financial Services. It is the company's only banking branch at present.
Discover Bank offers customers a wide variety of everyday financial products. It can be difficult to find an online, high-yield savings account at the same bank where you can also find a rewards-based (free) checking account… but Discover Bank has made that a reality. On top of that, you can also get money market accounts (MMAs) and certificates of deposit (CDs) from Discover Bank, all with enviable returns.
Savings Accounts
There are many reasons that you may want to open a high-yield online savings account. You'll not only be able to save for whatever goals you may have (like a big trip or down payment), but you'll also maximize your returns in the process.
Interest Earned
The national average among savings account interest rates is about 0.06% APY today, or lower. That makes it even more impressive when you learn that the savings rate offered by Discover Bank is currently 0.40% APY (as of this writing, October 18, 2021).
This means that your money will grow exponentially over time. Instead of sitting in a non-interest bearing checking account, or a savings account with a bare minimum return, you'll be earning market-topping returns on your cash.
If you want to know just how long it will take you to reach your goals with Discover Bank's savings account, you can use their online calculator. Simply enter your starting balance and the amount you can afford to put aside each month. It will then tell you when you should reach your goal, based on the current interest rate offered.

If you're planning to hold a larger sum of money in savings, or carry that balance around for a few years, a savings account might not be the most lucrative. In certain cases, a CD or MMA makes more sense, just due to a higher interest rate. However, if you're simply looking for a place to put your everyday savings where it will net you higher-than-average interest, the Discover savings account is a good place to start.
Fees
There are no fees to open a Discover Bank savings account. There isn't even a minimum deposit required, so you're welcome to open your free account with as much, or as little, as you'd like.
There are no minimum balances that you're required to hold, either, and no monthly maintenance fees charged on the savings accounts offered by Discover. You also won't pay anything to make basic withdrawals or deposits, even if you don't stay within the federal law parameters set for savings accounts (more about that in a moment).
In fact, Discover announced in June that they are eliminating all fees on their deposit accounts. This means no NSF, stop payment, excessive withdrawal, or below-minimum-balance fees will ever hit your account again.
Withdrawals and Deposits
Discover makes it easy to fund your account and access your cash, no matter where you are or what you need your money for. Both deposits and withdrawals are simple and free, and you have a number of options for each.
If you want to add funds to your Discover Bank savings account, you can do so various ways. You can:
Set up a transfer from an existing Discover account

Set up a transfer from an external bank account

Deposit a check via Mobile Check Deposit using your smartphone

Set up direct deposit

Mail in a check with a deposit slip
Incoming wires are also accepted, and there is no fee for this funding method.
If you need to access your cash, you have just as many options. To withdraw funds, you can:
Transfer funds to an existing Discover account

Transfer funds to an external bank account

Request a check from the bank

Initiate an outgoing domestic wire transfer*

Initiate an international wire transfer*
*Fees apply
As with all savings accounts, you are limited to six withdrawals in a statement cycle. This is a federal law, however, and not just a rule from Discover. If you surpass this limit, you could potentially have your savings account automatically switched to a checking account, though there would be no fees incurred.
If you want to deposit to or withdraw cash from your Discover Bank savings account and desire a personal touch, you can also visit a local branch… but only if you are near Greenwood, Delaware. That is where the bank's sole brick-and-mortar location is, and is your only option for in-person banking services.
How to Open a Savings Account
It's quick and easy to open a Discover Bank savings account. You can choose to simply complete the process online through the bank's website, or give their customer service a call.
You'll need to have a few important items on hand to complete the process. These include your:
Name and address

SSN and driver's license/state ID number

Date of birth and mother's maiden name

Funding source information (such as the routing and account numbers of an existing bank account)
As we already mentioned, there is no minimum deposit required to open your new savings account with Discover Bank.
Checking Accounts
There are a few great online banks out there offering enviable interest rates on their savings accounts. Most of them, though, don't offer checking accounts. Of those that do, almost none of them offer free, rewards-based checking accounts with excellent features.
Welcome to Discover Bank, where you can have it all.
Features
The Discover Bank checking account is a rife with features, especially considering it's an online bank that also offers top-of-the-market interest rates on its savings accounts. It's rare to find all of that in the same place, but Discover seems to have done it.
Checking accounts through Discover Bank come with a number of excellent benefits, such as:
Up to 1% cash back on your debit card purchases

Free online bill-pay

Free ACH transfers and incoming wires

Access to over 60,000 no-fee ATMs across the country
All of this, with no monthly fee.
Fees
There are no fees for the Discover Bank checking account, which is a surprise win in the world of rewards-based checking accounts. There are no monthly balance requirements, no debit or check card activity requirements, and you aren't forced to have a savings account or other financial product if you don't want/need it. Either way, your Discover Bank checking account is still free.
With a Discover checking account, you won't have to worry about stop payment fees, insufficient funds fees, and the like, either. As of June 2019, the bank announced that all deposit accounts will be fee-free.
Rewards Earned
Every time you use your debit card throughout the month, you'll be earning rewards. Cash back for purchases made on rewards credit cards is nothing new… but a solid rewards program for debit purchases is hard to come by! Discover Bank offers an impressive 1% back on up to $3,000 in monthly activity, too, making it easy to earn up to $30 a month ($360 a year) just for buying the things you already need.
Certain transactions are ineligible for the cash back program. These include peer-to-peer (P2P) transfers, such as those made through Venmo or Zelle. The purchase of money orders is also exempt, as are ATM withdrawals. Beyond that, though, each of your purchases will earn 1% back.
Withdrawals and Deposits
Whenever you need to access, or add to, your checking account funds, Discover Bank makes it easy.
Deposits can be made in a variety of ways, just as with the savings accounts. You can mail in a check, set up an ACH transfer from an external bank account, transfer from an existing Discover account, accept an incoming wire, or deposit a check via the mobile deposit feature within Discover's app. There are no fees involved with any of these methods.
Withdrawals are unlimited with Discover Bank checking accounts and can also be done a number of ways. You can use your debit card to access the more than 60,000 ATMs in the Discover Bank network, all without fee. You can (obviously) write checks from the account, initial ACH transfers to external accounts, transfer to an existing Discover account, or request a check from Discover, all for free. Outgoing wires are subject to fees, but can be either domestic or international.
Money Market Accounts (MMAs)
Want the flexibility of a checking account along with the high-yield earnings of a savings account? Look no further than a Discover Bank money market account, or MMA.
These accounts not only earn high interest on balances held, but you also get to enjoy access to your funds via ATM, debit, or even check.
Interest Earned
Money market accounts are a hybrid savings account. They offer rates comparable to those of a traditional high-yield savings, but with the flexibility and funds access that you find with a checking account. These make them the perfect option for anyone who wants to earn as much as possible from their money without sacrificing liquidity.
Discover Bank MMAs currently earn as much as 0.35% APY, for balances over $100,000. If your balance is below $100,000, the rate is still an impressive 0.30% APY. You can use the same online calculator to see how your savings rate will translate into meeting your savings goals, too.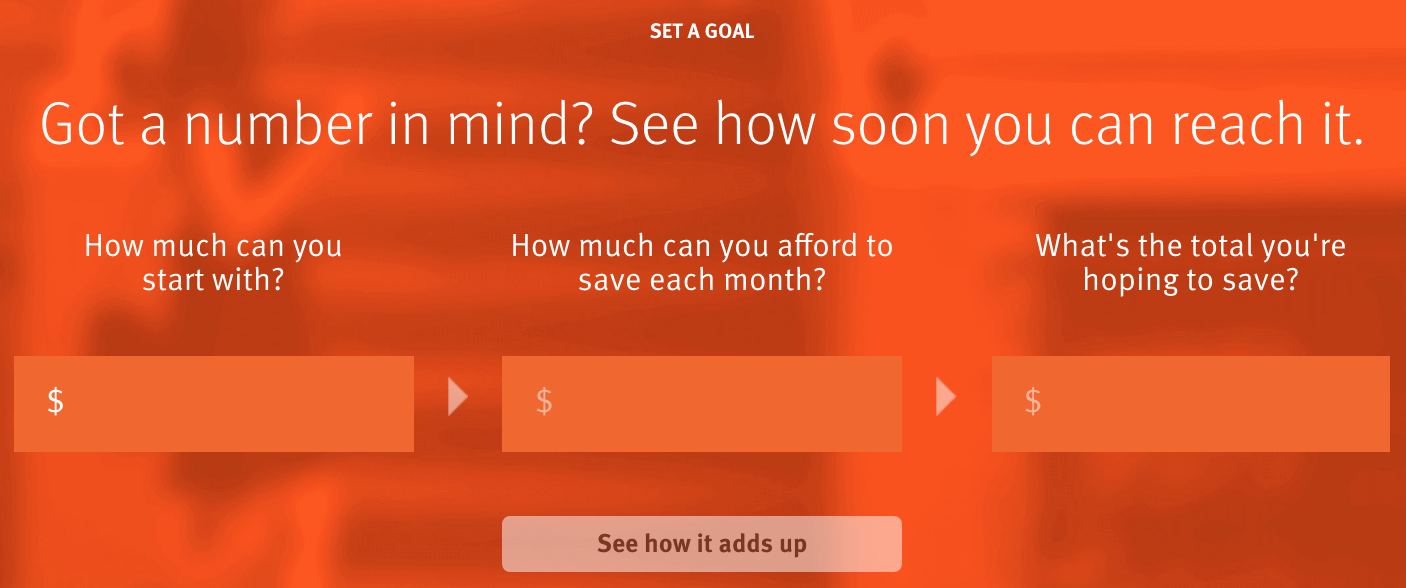 Fees
It's entirely free to open a new money market account through Discover Bank. And they are transparent about the fees they do charge, so you're never caught off-guard.
There are no fees for allowing your balance to drop below any thresholds. Additionally, there are no stop-payment fees or insufficient funds fees on your MMA.
ATMs from the extensive Discover network are free. If you need to make a withdrawal from an out-of-network ATM, Discover Bank won't charge you any fees, though the bank that owns the ATM might charge something on their end. Discover Bank also won't charge you for check reorders or even new ATM/debit cards, if yours is lost or stolen. Oh, and they'll even expedite your replacement to you at no charge.
Since the Discover Bank MMA is a savings account, it's bound to the same federal limits as the savings account mentioned above. If you make more than the allotted six withdrawals in a given statement cycle, you could have your account closed.
Outgoing wire fees are $30, however, so watch out for those as they can add up.
Withdrawals and Deposits
Adding money to or taking money out of your MMA through Discover Bank is easy. They give you plenty of free options and quick way to access your cash at any time.
If you want to deposit funds into your MMA, you can do so online or through the mobile app. Checks can be deposited on your mobile device, and transfers from other Discover Bank accounts or external accounts are simple to initiate. Incoming wires are free and easy, as well. Or, if needed, you can also mail in a check and wait for it to clear.
When you need to withdraw funds, you can simply use your provided ATM debit card to pull cash from any of the network's 60,000 nationwide ATMs. You can also initiate outgoing transfers or wires online, or through the web platform. You can even take advantage of Discover's bill-pay service to take care of your monthly payments for free.
Just keep in mind that because this is classified as a savings account, you are still limited to six transactions in a statement cycle. Surpass that, and your account will be at risk of closure.
Certificates of Deposit (CDs)
Savings accounts are great for earning interest on the cash that we might need to utilize at any given time. Its liquidity makes it safer, especially if you don't already have emergency funds at the ready. But what if you know for sure that some of your savings won't need to be touched for a while?
Well, you could earn a lot more by putting that money in a certificate of deposit (CD) instead. Discover Bank CDs offer a variety of term options and an enviable APY, as long as you have at least $2,500 to set aside.
Interest Earned
There's one really great thing about CDs: the longer you are willing to save your money, the higher the interest rate you'll earn. And as far as savings products go, you can't do much better than a CD's interest rate.
If you're only willing to put your money in a CD for 9 months or less, you're better off putting it in one of their high-yield savings accounts. You'll earn a higher rate of return that way. However, if you're willing to commit to 12 months or longer, you can make significantly more money with a CD.
If you want to see how much your savings will earn based on current interest rates, you can use the CD interest calculator on Discover Bank's website. That way, you can compare the different term lengths and rates, to see exactly how much your money will earn by the time your CD reaches maturation.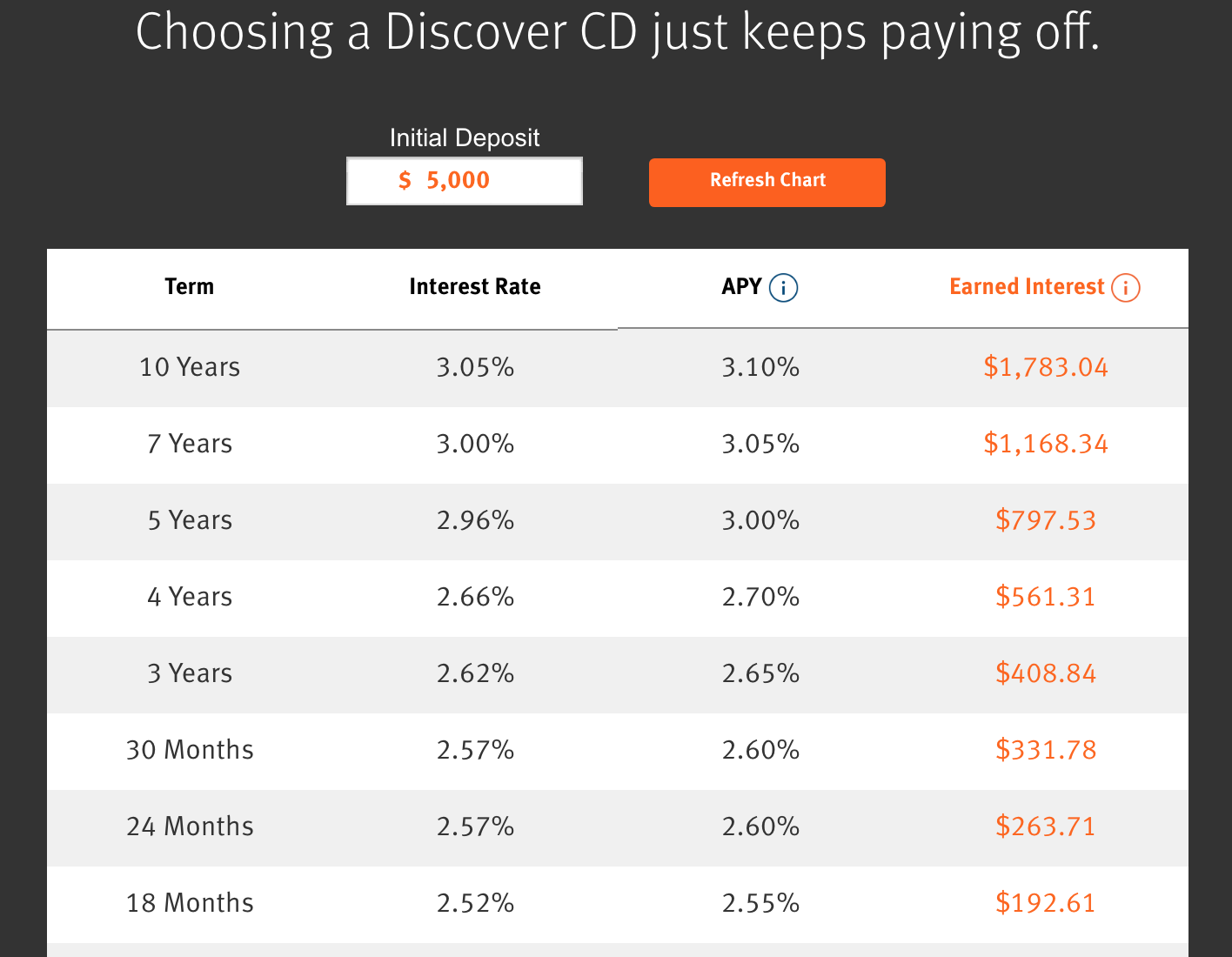 Rates are subject to change at any time. As of today, though, these rates range from 0.50% to 0.80% APY.
Of course, it's important to only open a CD if you're sure that you won't need to access that money until the term length has passed. If you need to pull funds out early, you'll pay an early withdrawal fee… and the penalty can be pretty steep.
Early Withdrawal Penalties
Your CD may be free from Discover Bank and earn you a competitive interest rate, but you'll still need to be sure it's the right term length for you before you proceed. If you need to withdraw your savings before it reaches maturation, the bank will impose a penalty.
These penalties are calculated based on the original term length of the CD. With Discover Bank, they are as follows:
If your CD term was less than 1 year, your penalty is 3 months simple interest.

If your CD term was 1 year to <4 years, your penalty is 6 months simple interest.

If your CD term was 4 years to <5 years, your penalty is 9 months simple interest.

If your CD term was 5 years to <7 years, your penalty is 18 months simple interest.

If your CD term was 7 years or greater, your penalty is 24 months simple interest.
Depending on when you withdraw your funds, this could mean that the penalty actually eats away at your earned interest and your original principal.
How to Open a Discover Bank CD
Decide that a Discover Bank CD is right for you? Then it's quick and easy to get one opened.
All you need to do is hop online and click on Get Started. There are a few things you'll need to open the account, such as your:
Name and address

Phone number

Email address

SSN or other taxpayer ID number
You will then need to fund your new CD with at least $2,500. This can be done by mailing a check to Discover Bank, or by initiating a transfer from either an existing Discover Bank account or from an external bank account.
If you'd prefer, you can also open a CD over the phone with one of their US-based bank specialists.
Discover Bank Mobile App
One of the biggest banking conveniences is the mobile app. It allows you to not only view your accounts on the go, but make changes, initiate transfers, report suspicious activity, and even deposit checks electronically. Discover's mobile banking app is no different.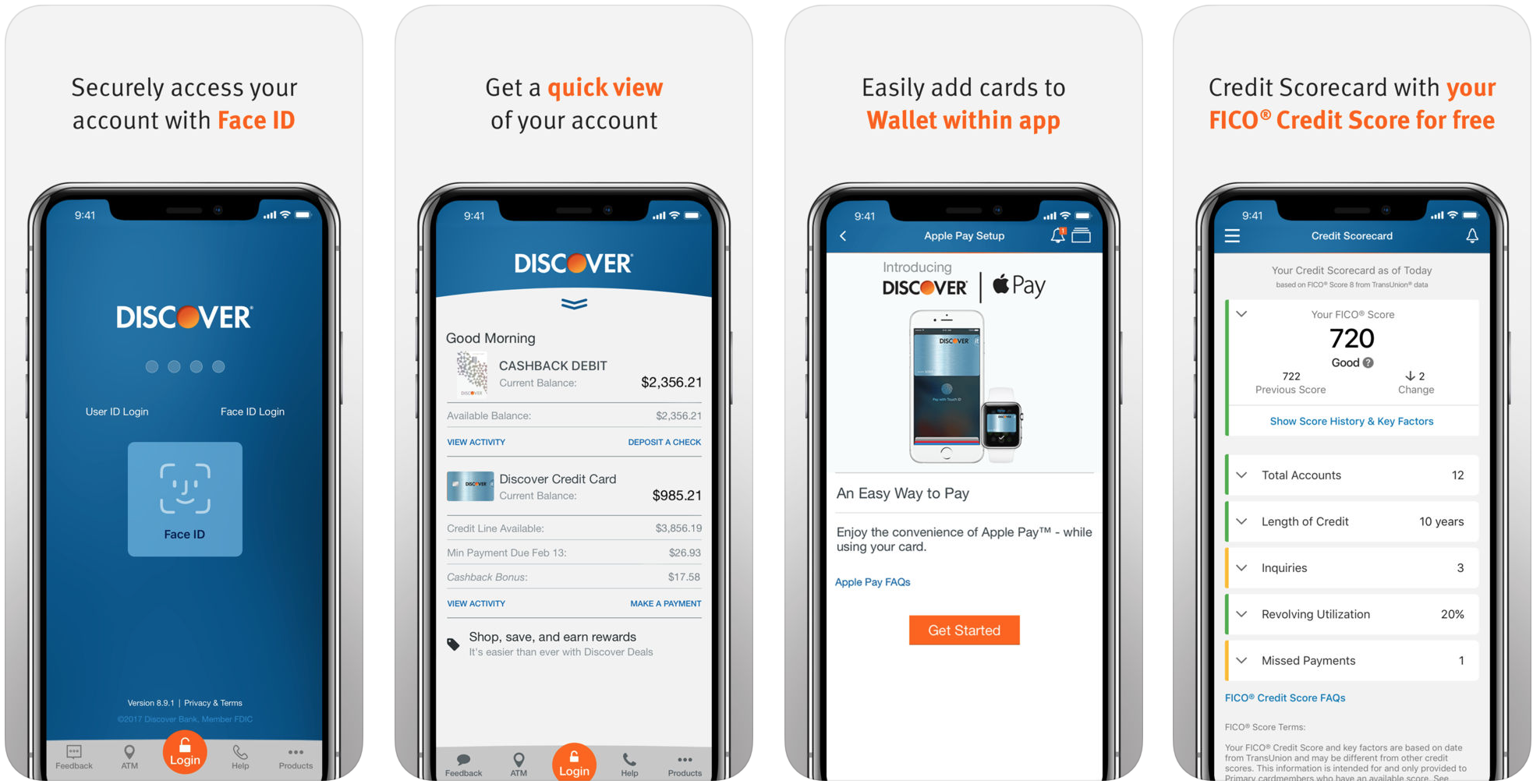 The Discover Mobile app is available in both Google Play and the App Store, and has very high ratings (4.8 in iTunes!). From there, you can easily manage your accounts, check your credit score, and even add cards to your mobile wallet. No matter which Discover Bank accounts you hold, the mobile app can help you better manage your money.
Is Discover Bank Right for You?
Whether you knew that Discover was more than just credit cards or not, you hopefully have a good idea of what Discover Bank has to offer for both your checking and savings accounts. And not only do they have a variety of financial products to choose from, all backed by a solid name like Discover, but they also offer market-topping interest rates to boot.
If you're looking for an online bank that can meet all of your banking needs — from free checking accounts that earn rewards to high-yield savings, MMAs, and flexible CD options — look no further. At Discover Bank, you'll find all of that while also earning an impressive return on your money.
Discover Bank might not be the right choice if in-person banking is more your style (unless you live in Delaware, near their one branch location!). However, with an easy-to-navigate web platform, US-based phone customer service, and a highly-rated mobile app, you can manage all aspects of your account with ease… and from the comfort of your own home.
To learn more about Discover Bank or open one of their many free, high-yield accounts, visit their site here.